by AMBER HOOKER
Article in The Morning Bulletin
1st Sep 2016
PAT Lilleboe has travelled the Greek Islands and Malaysian havens, but believes they pail in comparison to Great Keppel Island.
The 28 year old spends each day either admiring the view of the ocean from his family's Lammermoor Convenience Centre store, or basking in the sun and surf of countless hidden coves on the Capricorn Coast.
But the surfer was in disbelief yesterday when he discovered the region he calls home had never before been considered among the best.
But with Australia's 101 Best Beaches reviewer and project leader Brad Farmer in town today, the surfer suggested he explore the untouched landscapes at Five Rocks, Kemp Beach south of the harbour and above all, Keppel.
"Check it out, give it a go because there's lots of little nooks and crannies in our area and gems to find," Pat advised.
After spending ten years away to study in Brisbane and travel, Pat said nothing quite "scratched the itch" like living by the water, and now finds himself frequenting the beach daily.
"I would say still nothing compares to Keppel – because I have been to quite a few islands around the world," he said.

"I have done the Greek Islands, islands in Malaysia and still I love Keppel.

"I like deserted beaches, Keppel has so many different beaches there."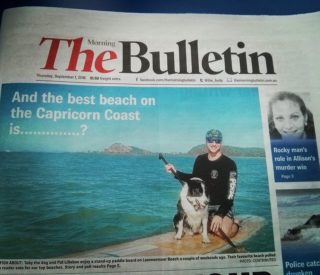 Pat said he finds solace sitting on a sand dune reading a book, watching the turtles or taking his dog for a paddle board or popping across the road on a lunch break.
"My favourite beach is Kemp Beach and that's just south of the harbour, it reminds me a bit of Summer Bay; I have gone surfing there a couple of times," he said.
"There's nature walks on both sides and the island in the middle. There's no houses around which is nice – secluded."
Pat and his family often share shots of their enviable view on Instagram@Lammermoorservo, which have been shared by Queensland Tourism and Capricorn Enterprise.