Press Release
3 June 2019
Sail Inn on James St, today announced that it has received a TripAdvisor® Certificate of Excellence for the second year in a row. Since 2011, the Certificate of Excellence honors hospitality businesses that deliver consistently great service across the world. This designation is presented to the top 10% of total businesses on TripAdvisor that have consistently achieved great reviews over the past year. Certificate of Excellence recipients include accommodations, restaurants and attractions located all over the world that have continually delivered a quality customer experience.
Bob and Lisa Lilleboe became the owners of the Sail Inn in November 2016 and since then the business has continued to grow. Their son, Pat Lilleboe has been managing the motel and was selected for the 2018 Queensland Tourism Industry Council's Young Professionals Mentoring Program and was an Emerging Leader of the Year Finalist in the 2017 Australian Leadership Excellence Awards. Pat Lilleboe and the team at the Sail Inn have accomplished a lot in the couple years they have run the motel. This year has seen them acknowledge by Queensland.com and Australia.com as a Best of Queensland Experience and are currently ranking number 1 on TripAdvisor for Hotels in Yeppoon. Not to mention their great success at the inaugural Capricorn Coast Business Awards held last week. Out of 800 nominations for the awards Sail Inn was the only finalist representing the accommodation industry in Yeppoon. This little motel on the main street beat out all the beachfront apartments and hotels in Yeppoon for a finalist spot at the awards.
I am so thankful for the support from our guests and my community. We have worked very hard to breathe life back into the Sail Inn and it is nice to be recognised. I would like to thank Livingstone Shire Council and Capricorn Enterprise for all the professional development opportunities I have been able to take advantage of. The workshops and experts they bring to Yeppoon are invaluable to someone like me who is new to running a business and has never worked in this industry before." – Pat Lilleboe, Manager of the Sail Inn.
The Certificate of Excellence accounts for the quality, quantity and recency of reviews submitted by travelers on TripAdvisor over a 12-month period. To qualify, a business must maintain an overall TripAdvisor bubble rating of at least four out of five, have a minimum number of reviews and must have been listed on TripAdvisor for at least 12 months.
Thank you to the Capricorn Coast Mirror, HitFM Central Queensland and Capricorn Enterprise for sharing our story.
---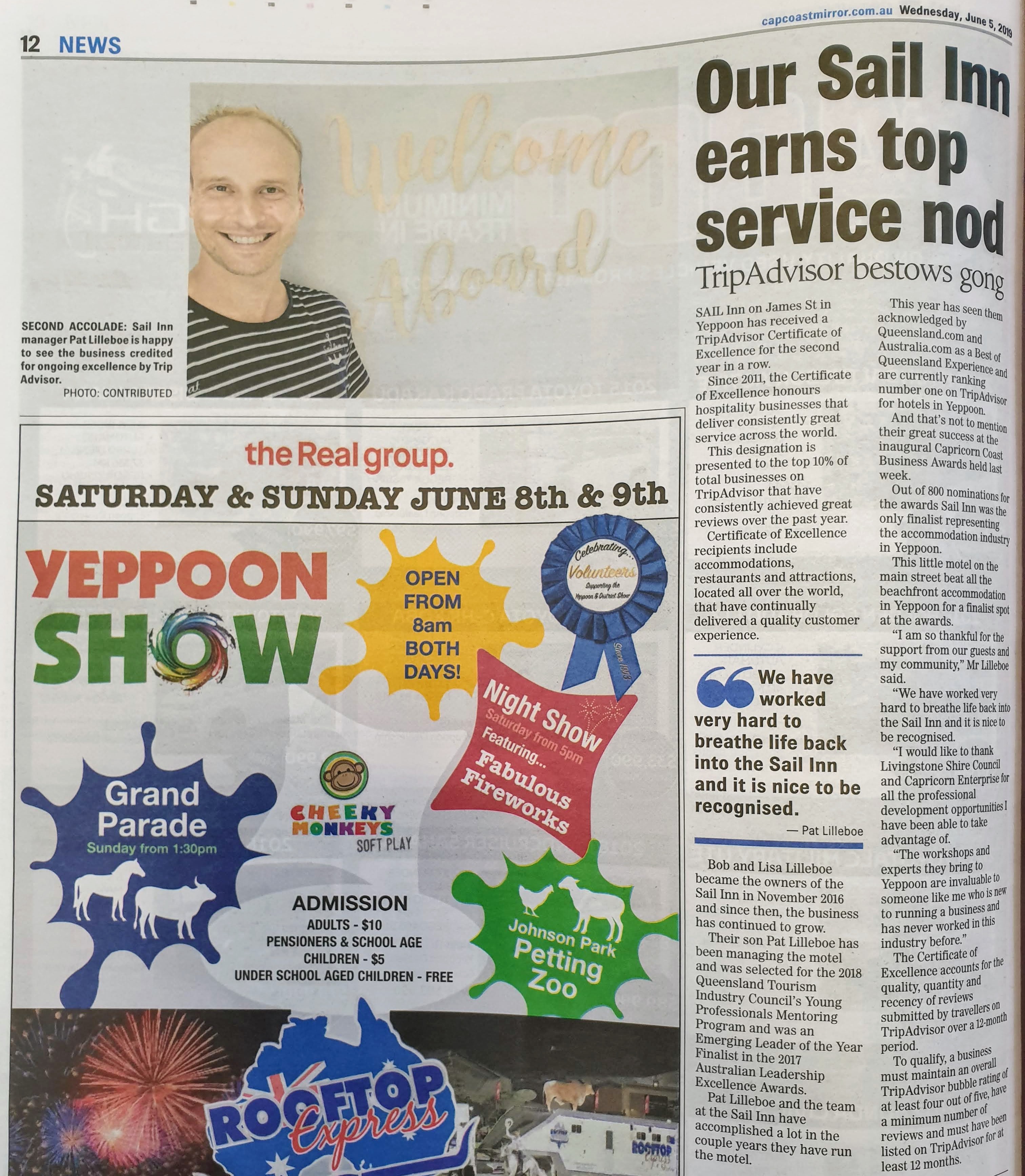 ---